AUDI International Exhibit Design

IAA Frankfurt -International Motor Show Germany (2500sqm)
Geneva Salon de l'Auto, Switzerland (1300 sqm)

Position: Project Director for Schmudhuiber+Partner, Munich, Germany
BACKGROUND
:
   AUDI, a leader in the luxury car market, uses international and local motor- shows as one of the main platforms to display the latest models, technologies and designs. These exhibits are of paramount importance to the brand's image. The IAA Frankfurt Trade Show, and the Geneva Salon d'Auto, are two of the most important trade shows for the car industry. Traditionally for AUDI, the IAA exhibit sets the standards, for the smaller trade shows such as Geneva, Paris and Tokyo. A "signature" element of the AUDI exhibit initiated in 1993 was the award winning "Hangar" structure design, subsequently incorporated in all exhibits during the following years.
CLIENT BRIEF
:   The initial brief for the IAA Frankfurt Motor Show was that the exhibit should have an identifiable design and create a space that translates and communicates the brand's image to the visiting public and include the "hangar"structure. As well, special attention should be given to the "highlight"presentation where the latest model is showcased. However, for the Geneva Salon de l'Auto, that took place 6 months after the IAA, the client wanted the stand design to evolve to evoke a warmer atmosphere and a new image.
MY VISION
:   For the IAA I imagined an overall high-tech look and feel. The plan should implement the corporate identity guidelines, the signature "hangar", and include a "street" made of Granite stone cut in a wave shape where current models are exposed. I envisioned a unique construction with gliding screen walls for the "highlight" presentation as well as new furniture and multi-functional reception counters.
For the Geneva Salon de l'Auto I looked for a new interpretation of the "street" as an exhibition surface as well as new ways to innovate with colors and materials, consistently using the "Hangar" structure, but in a different way.
THE DESIGN
:   The AUDI stand at the IAA Frankfurt exhibit showcased the realization of my vision, including the "highlight" structure with gliding screen walls, the car exposition "street" and the "Hangar" construction as a bridge which formed an open tunnel. The VIP bar, situated on this bridge, overlooked the entire stand and formed the transition between the "highlight" structure and the administration building. Audi's high-tech image was reflected in the new fixtures and furnishings for the administration offices, meeting rooms and restaurant.
RESULT:   At the Geneva Salon de l'Auto this evolution involved building three-dimensional wooden ramps,dynamic floor lines and integrating an orange color palette in the stand architecture evoking a more welcoming atmosphere.
 

"Hangar"

Structure for AUDI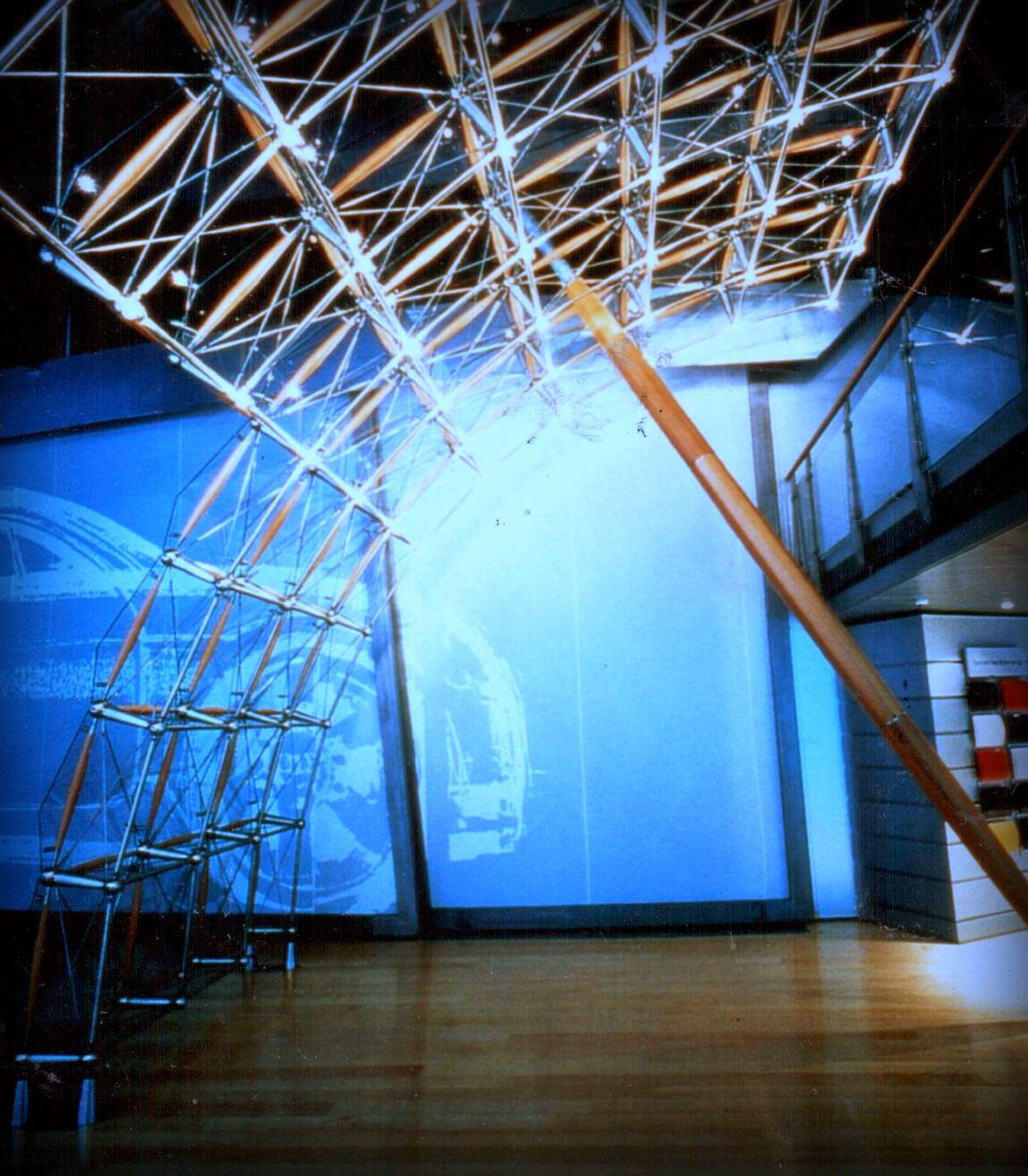 AUDI exhibit -

IAA,

  1995, Frankfurt Genrmany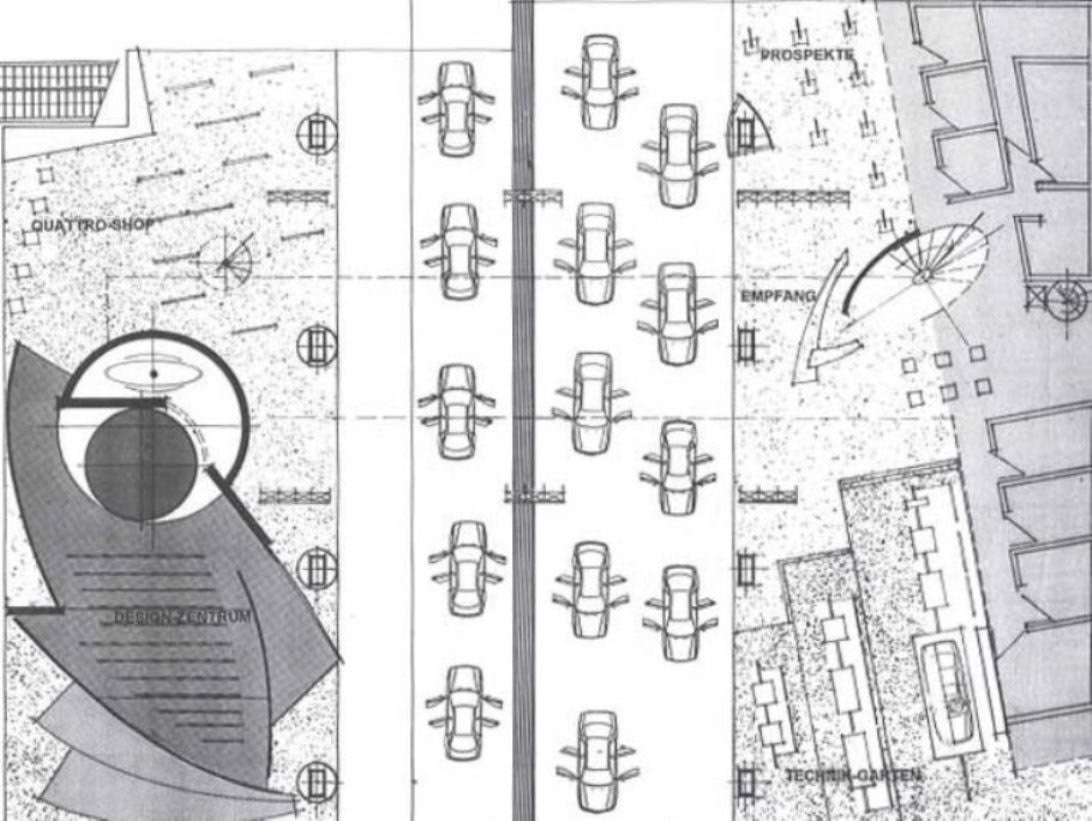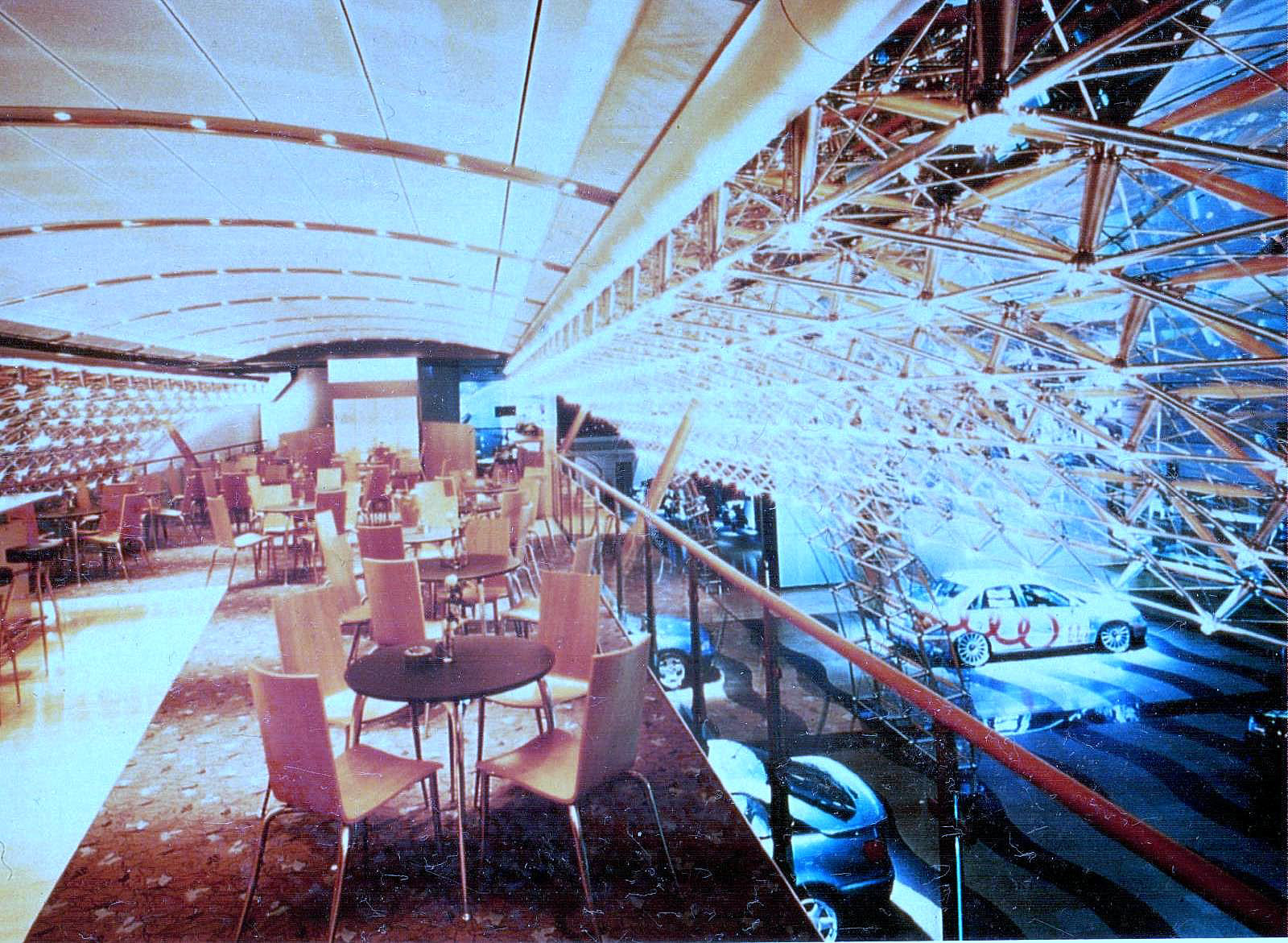 AUDI exhibit 1996

Salon de l'auto, Geneva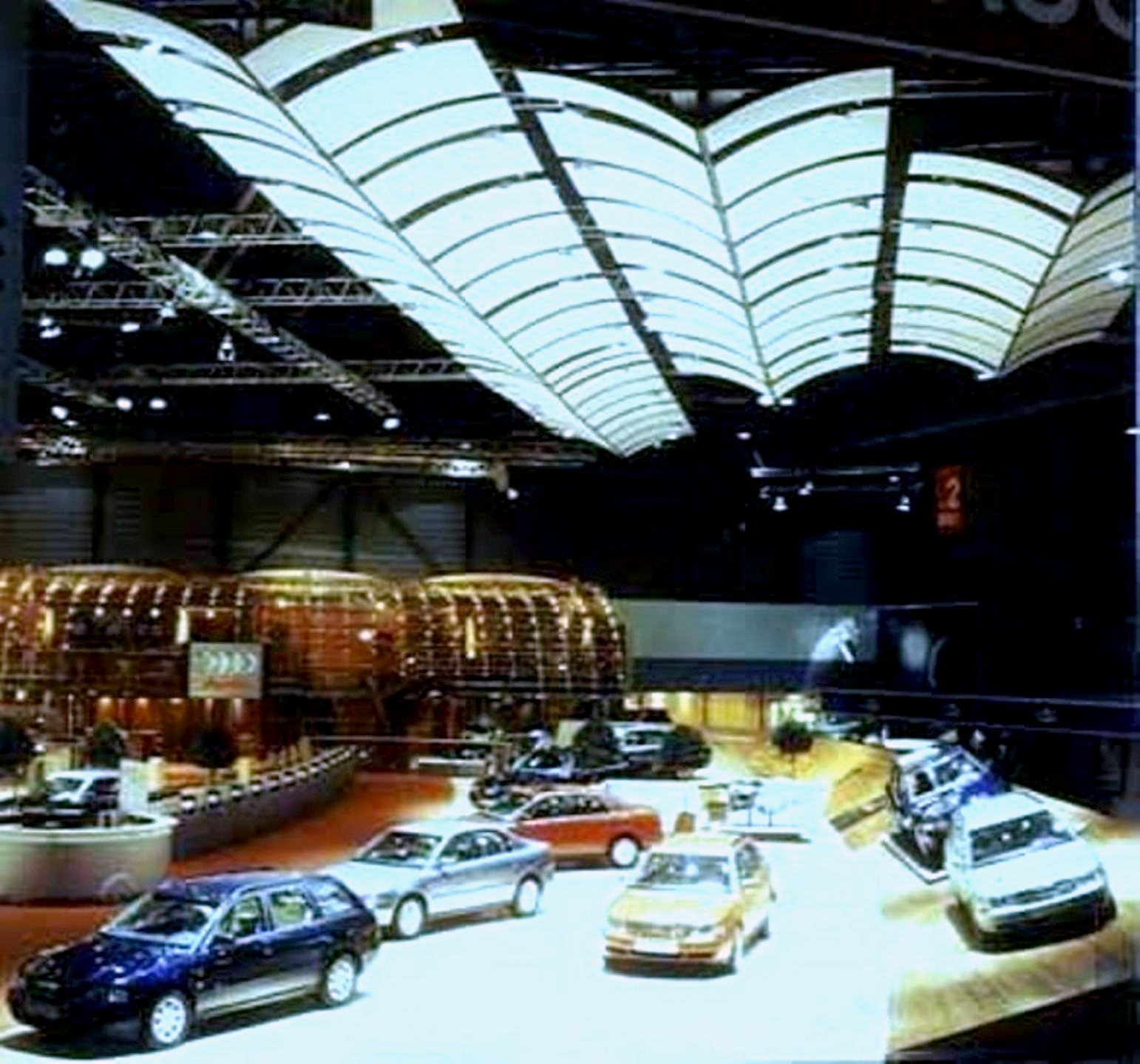 New  Orange color intreduced on the Audi stand, first step for the new Cooroprat Identity architecture